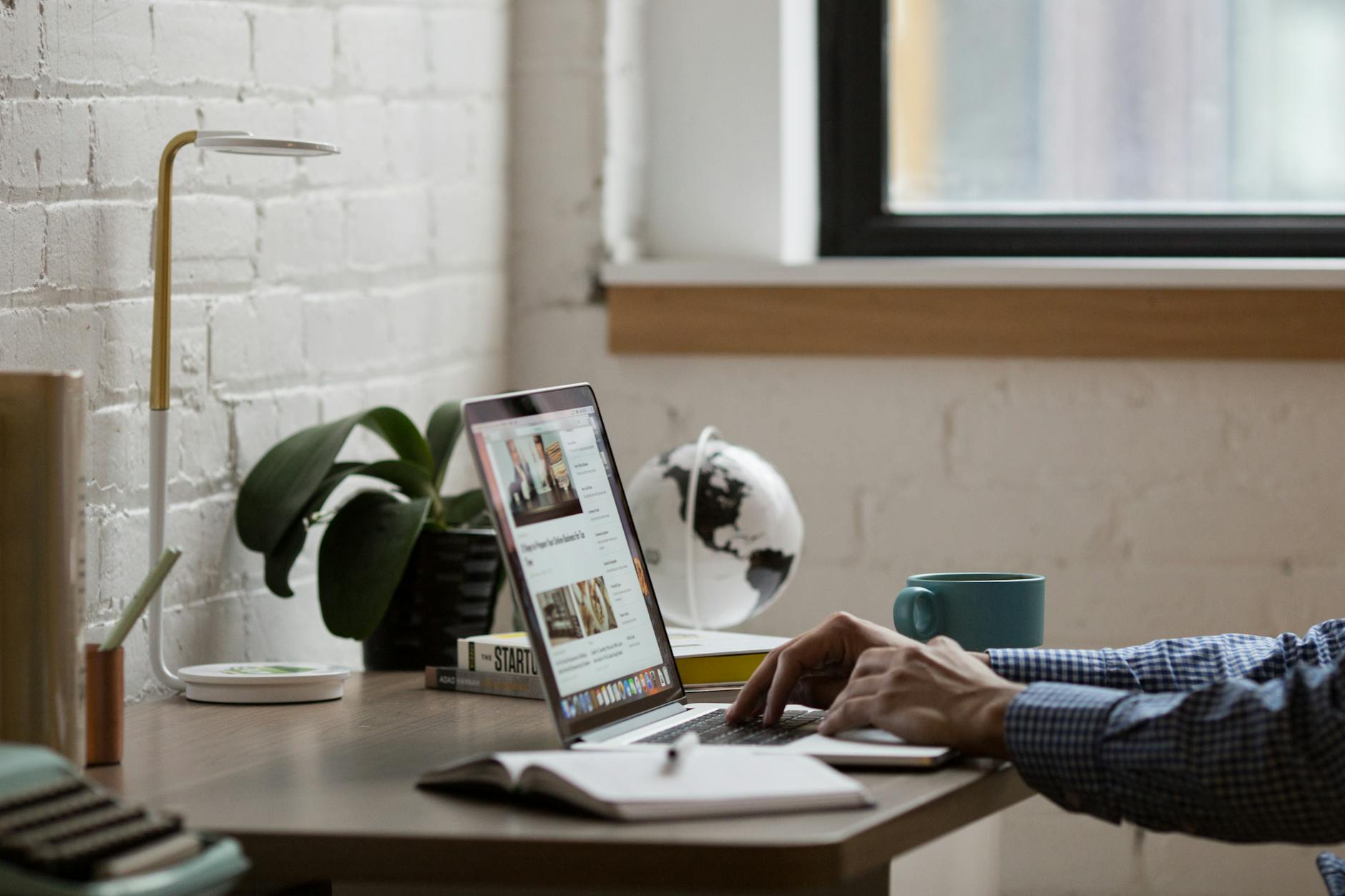 How to Make a Website From Scratch
By connecting you with a larger audience, having a website may help you increase your online presence, whether it's a personal blog or a company. A website may also serve as a platform for sharing your ideas and skills, allowing you to work on personal or company projects.
This article will help you in developing your website idea into a fully working website by guiding you through the process of choosing a suitable platform, purchasing a web hosting package, and selecting a memorable domain name. We'll also give you some tips on how to optimize it.
We'll use the WordPress content management system as an example to show how to create a high-quality website. This platform is user-friendly and does not require any coding experience.
We'll also go through what to do once you've published a website and address some of the most common queries. You will be able to build your first website from the ground up by the conclusion of this post.
Before you create a website, there are three things you must do.
Before you start developing your first website, you need to know what a website building platform is, what web hosting is, and what a domain name is.
Choose the Right Platform: CMS vs. Website Builder
Content management systems (CMSs) and website builders are the two most popular tools for building sites.
Remember to do some research before choosing a platform, since choosing one that is better suited to your needs can make the website building process simpler.
A content management system (CMS) is a bit of software that allows you to design, manage, and publish content on your website. We'll focus on WordPress in this essay because it's the most popular CMS platform, powering over 42% of all websites on the internet.
A website builder, on the other hand, is a program or tool that makes the process of creating a website even simpler. Zyro is a drag-and-drop website builder that offers high-quality templates and a simple interface.
Even though both platforms give a way to build a website without having to code, here are where the two differ:
Pros
Flexible. From small personal blogs to major eCommerce websites, this theme is suitable for all types of websites. Scalable. Extensions, like plugins and add-ons, provide you with more options for increasing the function of your site. Community. Web developers are engaged in large groups.
Cons
Setup time is increased. It takes longer to set up, owing to the fact that you must choose your own web hosting company. There is a lack of dedicated support. Usually, CMSs rely on community support only. There are security issues. It is the responsibility of the user to choose a secure web host and extension.
Pros
Beginner-friendly. To help in the creation of a high-quality website, a faster setup and simple interface are available. Dedicated assistance. Direct help is available via live chat, emails, and phone calls. Maintenance and security. Built-in security, backups, and regular maintenance are all improved.
Cons
Budget. It's more difficult to adapt costs to a personal budget when pricing plans are set in stone. Less flexible. There are fewer tools and extensions available, making it more difficult to design a customized website. Ownership is limited. Lack of access to the website's server, which saves website files automatically. As a result, users are unable to completely customize their websites.
To choose the right website building platform for your needs, consider the following factors:
Technical knowledge: The learning curve for some systems is greater than for others. To make the web development process more manageable, think about your coding and technical skills.
Cost: Choose a platform that fits your budget. Also, check whether you will be able to upgrade once your website gets more traffic.
Support: Depending on the sort of website, some may need more help than others. When an error occurs on a busy professional website, for example, quick support is required. A small personal blog, on the other hand, may rely only on community support.
Purchase a Web Hosting Package
A web hosting service is a service that allows a website or web application to be published on the internet. Decide which sort of web host is best for your needs before choosing a hosting package. If you're using a CMS platform, you'll need to select a reliable hosting company.
Because most website builders utilize their hosting providers, this is the case. If you've decided to use a website builder, skip to the next stage.
Consider the sort of website you're building and the following elements while looking for a web host:
Cost: Some web servers demand a higher fee than others. Make sure the price fits into your total budget.
Features: Evaluate the hosting provider's bandwidth and storage to see if it can handle your website's files and the expected number of visitors.
Security: Check for security features like automated backups and an SSL certificate that are built-in.
Support: Different hosting companies have their support, which may be contacted via live chat or email. Choose a web host that can give reliable support 24/7.
Study the different plans when you've found a good hosting provider. Finally, the type of website you want to create will determine the hosting package you choose.
Free domain name: Hosting companies such as Hostinger & Bluehost provide plans that include a free domain name registration for the first year at least. The initial costs of creating a website will be lowered if you choose a plan that includes this benefit.
Storage: Adjust the storage capacity to make sure it will hold all of your data, images, and videos without slowing down the website.
Bandwidth: Choose unlimited bandwidth to ensure that your website can manage large amounts of traffic at any time.
We recommend shared web hosting if you're looking for a beginner-friendly hosting provider to build a small to medium website. Hostguid listed many shared web hosting companies' plans starting at $0.41.
Virtual Private Server (VPS) hosting, on the other hand, provides access to a more secure and flexible server, but it takes some technical knowledge to use. Hostguid listed many VPS hosting companies' plans starting at $1.23.
Cloud hosting provides outstanding reliability for large websites, such as online stores. Hostguid listed many Cloud plan start, for example, costs $0.65 per month.
Choose a Memorable Domain Name
Finally, pick a domain name for your site. A custom domain name is not only essential for visitors to find a website, but it also serves as part of the branding strategy. A memorable domain name can also largest increase organic traffic.
To find the right domain for your website, consider the following elements:
Recognition: To avoid people misspelling your domain, choose one that is short and easy to recall. Using phrases that are familiar to visitors will make it easier for them to remember your domain name.
Availability: To see if the chosen domain name is available, use a domain checker. If not, try changing the extension or looking for an alternative domain name.
Cost: Remember that different top-level domains (TLDs) have varied pricing when choosing a domain that fits your budget. A domain can cost $0.99-12.99/year.
Then, using a trustworthy domain name registrar, register your domain. Most website builders and web hosts, thankfully, include domain name registration in their pricing plans. Getting your domain name, on the other hand, will need more research.
The first step in buying a domain on your own is to find a registrar that is accredited by the Internet Corporation for Assigned Names and Numbers (ICANN). Different registrars will have different services, fees, and packages to offer.
It's essential to register with a trustworthy registrar since it will keep all of your relevant data. Moreover, the domain registrar has the ability to modify your data in the domain database.
We listed many WordPress hosting companies' plans
How to Make a Website With WordPress for Free
It's time to create your website now you've set up the platform, hosting, and domain. We'll explain the process of creating a WordPress website step by step.
WordPress is a very flexible and scalable platform. The platform is suitable for any style of website, and its extensive plugin gallery makes it simple to expand your site as it grows in popularity.
WordPress is a free and open-source content management system. WordPress may be installed in three basic ways:
Auto-installer: Some web-hosting providers, such as our WordPress hosting, have a software auto-installer in their

control panel

. This is the most beginner-friendly

WordPress installation

.
Manually: For a manual installation, create your database. Although the process will take longer, it is still simple to follow.
Locally: Install WordPress on your PC to try out changes before publishing them to the public. Using MAMP for macOS or WampServer for Windows, download the most recent version of WordPress and install it locally.
2. Choose a WordPress Theme
To attract visitors, a website's design is essential. A visually pleasing design can also improve a website's user experience.
It is possible to hire a web designer to create a professional-looking website, but this might be costly. Luckily, the WordPress platform has a simple user interface that can help any user with web design.
The official WordPress themes library has over 8,800 free and paid WordPress themes. Some designs are appropriate for all types of websites, while others are more focused on a specific purpose:
eCommerce: Most themes focus on user experience, product pages, and payment methods when designing an online store. Divi and GeneratePress are two popular eCommerce themes.
Blogging: Make SEO-friendly designs with great navigation a priority. Astra and OceanWP are 2 excellent examples of blog website designs.
Portfolio: Choose a portfolio theme that is not distracting and can highlight your work to showcase prior projects. Use basic WordPress themes like Clean Portfolio or Air, for example.
A premium theme costs an average of $50 for a one-time purchase. You may start with a free WordPress theme and upgrade to a premium theme as your site grows in popularity. Some premium themes offer additional tools and features to optimize WordPress sites.
Go to your WordPress admin panel and follow these steps to install a theme:
Dashboard -> Appearance -> Themes and select a theme for your site. To view the full theme gallery, click on the Add New Theme button.
Browse through the theme gallery and click on Details & Preview or the Preview button to see how it looks on a website.
To use the selected theme, click on Install -> Activate.
Click on the Customize button to edit the design.
Personalize the theme by changing the layout, colors, and fonts.
To view the theme on a smaller screen, click the tablet or smartphone icon in the lower-left corner.
After purchasing a premium theme, you will need to manually upload its files. Head back to Dashboard -> Appearance -> Theme -> Add New Theme and click on the Upload Theme button. After the uploading process is complete, choose the theme's.zip file and activate it.
3. Install WordPress Plugins
One of the advantages of using the WordPress platform to create websites is a large number of plugins available. A plugin is a piece of software that improves the functionality of a WordPress site. Users may create any form of a website using plugins without having to learn how to code.
WordPress has over 59,000 free and premium plugins, for various purposes – from adding security to sharing website content. The following are some of the advantages of using WordPress plugins:
Usability: Help users navigate between the web pages better by optimizing the website's menus.
Additional tools: Adding features like social networking buttons or increasing a website's SEO can help expand function.
Performance: Improve the performance, security, and user management of the website.
Go to Dashboard -> Plugins -> Add New to install a WordPress plugin. To find a certain plugin, go through the plugin gallery or type its name into the Search plugins box. After you've found the plugin, activate it by clicking the Install Now button.
After you've purchased premium plugins, manually upload them. To install and activate your premium plugins, go to WordPress Dashboard -> Plugins -> Add New and click Upload Plugin.
Here are a few high-quality WordPress plugins that help you improve your site:
Contact Form 7

– creates customizable contact forms for your web pages.

WooCommerce

– makes it simple to create product pages and payment gateways Suitable for adding an online store to any sort of website.

Akismet

– Checks for harmful content in comments and contact form comments.
4. Build Your First WordPress Page
When creating a website, you may choose whether to have a single page or multiple pages. If you opt for the latter, consider adding the following pages:
Homepage: When someone visits a website, the first page they view is the home page. To capture the audience's interest right away, a site must have good speed, content, and design.
About page: More details about a website, such as whether it is a business or personal site.
Contact page: A way for visitors to contact website owners for further inquiries.
Blog page: Regularly adds new information to a website, keeping it up to date.
Product or service page: On a separate page, sell items and services, primarily for an eCommerce store.
To create your first page on a new website, Dashboard -> Pages -> Add New.
When you build a website page, prioritize informative and accurate content, along with user-friendly navigation. WordPress has built-in blocks to help with the content and layout. Press the + icon on the top left corner and browse through all the blocks to optimize a page.
There is no requirement to include anything on a blog page.
Simply go to Settings -> Readings and check the box next to Your homepage displays for A static page. On the Post page section, choose the empty blog page and click Save Changes. Every time you add blog posts, WordPress will automatically display them on the blog page.
WordPress also includes page builder plugins that allow you to design your web pages more easily. Elementor, Beaver Builder, and WPBakery Page Builder are three of the most popular WordPress page builders. The majority of them include a drag-and-drop interface, pre-built designs, and the ability to resize content.
The benefits of using page builders include:
Beginner-friendly: You don't need to know how to code to create interactive and high-quality web pages.
Faster: Instead of creating each page from scratch, use pre-designed parts and templates to create various types of pages.
Additional features: Add new features to websites to improve functionality and design.
5. Create a Navigation Menu and Widgets
Consider the user's experience when accessing the pages when building a website. Optimize your WordPress website's menus and widgets to improve navigation.
Create a menu to help visitors in navigating between pages. The website should show the same menu no matter which page users visit. Alternatively, create separate menus for different locations.
Follow the steps below to create a menu:
Write a Menu Name in WordPress Dashboard -> Appearance -> Menus. Choose whether or not new pages will be added to the menu automatically under Menu Settings. Then, on the website, choose the Display location. To complete the process, click Create Menu.
Select the pages, posts, or categories you want to include in the menu. Then, to save the changes, click Save Menu.
Additionally, to improve the style and navigation, consider installing the following WordPress menu plugins:
Max Mega Menu

:

provides a quick and responsive menu to help visitors in navigating between pages.

Responsive Menu

: With a beginner-friendly and lightweight UI, it provides over 150 customization options.

WP Mobile Menu

(

try Demo

): With a quick, clear, and responsive menu, the website menu is optimized for mobile devices.
Customizing WordPress widgets may help visitors have a better user experience, in addition to creating easy-to-navigate menus. Widgets add additional content and structure to a website's header, footer, and sidebars. Recent articles, calendars, and a search bar are among the most popular widgets.
Certain widgets are displayed straight away in some themes. It is, however, possible to design a custom widget. Go to Appearance -> Widget to do so. To add more content using blocks, click the + icon.
To customize widgets directly on the web design, follow these steps:
Dashboard -> Appearance -> Customize.
Select Sidebar under the Customize menu to show the different areas to add them, such as Sidebar Right, and Left Side Section. In a blog post, if you want to show the sidebar Blog Post under the Customize scroll down and turn on the sidebar. In the same way, you add sidebar single blog posts and categories.
To save your changes, click Publish. It's also possible to Save Draft by pressing the gear icon next to it.
6. Optimize Your Website for SEO and Conversions
The ranking of a web page on Search Engine Result Pages (SERPs) is improved via search engine optimization (SEO) (SERPs). Prioritizing SEO will help to drive higher traffic and position a website as a trustworthy source.
Using SEO plugins on a WordPress website is one of the greatest strategies to increase SEO:
Moreover, SEO might help to raise brand awareness. Organic search revenue is tripled for certain business websites, such as technology companies. By improving the following elements, SEO can help in increasing conversion rates:
Site speed

:

The ideal loading time for a website is around two seconds. Visitors are more likely to explore more pages if the site loads fast.
Images:

Optimize pictures and graphics

to make a site more visually appealing to visitors.
Mobile-responsiveness: Improve website performance on mobile and touch screens so that visitors can open your website on more devices.
We listed many Cloud hosting companies' plans
WordPress provides several solutions for scaling your website. Small company websites, for example, maybe converted into major eCommerce stores.
Here are some features to help scale your WordPress website:
eCommerce: Create an online store with a secure payment gateway and product pages that are simple to navigate. WooCommerce is one of the top WordPress eCommerce plugins, and it can help you create an eCommerce website quickly and easily.
Booking: Booking plugins enable users to check availability, reserve tickets, and make online payments on a business website that requires booking, such as a hotel or restaurant.
Contact form: To stay connected with website visitors, give a simple way for them to contact you for further inquiries. Contact forms also reduce spam by preventing publicizing your email address.
Mobile-responsiveness: Improve your website's speed to mobile devices, which makes for 54.8 % of all online traffic globally. As a result, your website will be able to reach a larger audience and stay ahead of the competition.
Possibly adding extra features, be sure your server is suitable for the sort of website you're creating. When scaling your website into a different kind of WordPress site, consider:
Storage: When adding more files, pages, or tools to a website, make sure to expand the storage capacity. It will help in the prevention of slower loading time since speed is one of the most important components of a website.
Quality: Check the previous pages and files before adding more information to a website to ensure consistent quality.
Security: When a website grows in size, it often means more interaction with users. Check for excellent WordPress security features to keep your site and visitors' info safe.
Check for any issues that may affect the viewing experience and usability of a website before launching it. There are several ways for testing a website before it goes live:
Friends and family: Ask that someone you know take a look at the website from the perspective of a visitor. Request input on the design, navigation, functionality, and responsiveness to mobile devices.
A/B testing: is a method of analyzing two options. To compare two versions of a website, use tools like Google Optimize or Nelio AB testing. This technique provides data-driven insights into which version works better.
Test your speed: A quick website will entice more people to remain and browse its pages. There are tools available to help you check the loading time of your website.
Also Read: How To Create An eCommerce Website In 2021
Also Read: How To Start A Food Blog: Step by Step?
Aslo Read: What Is Digital Marketing & How to Succeed in It?
Also Read: What Are Transcription Services And Why Does Your Business Need Them?
Also Read: 8 Best Ways To Increase Your Website Traffic For Making More Sales
Create A Beautiful Website
If you want to create a website for your business click the below button.